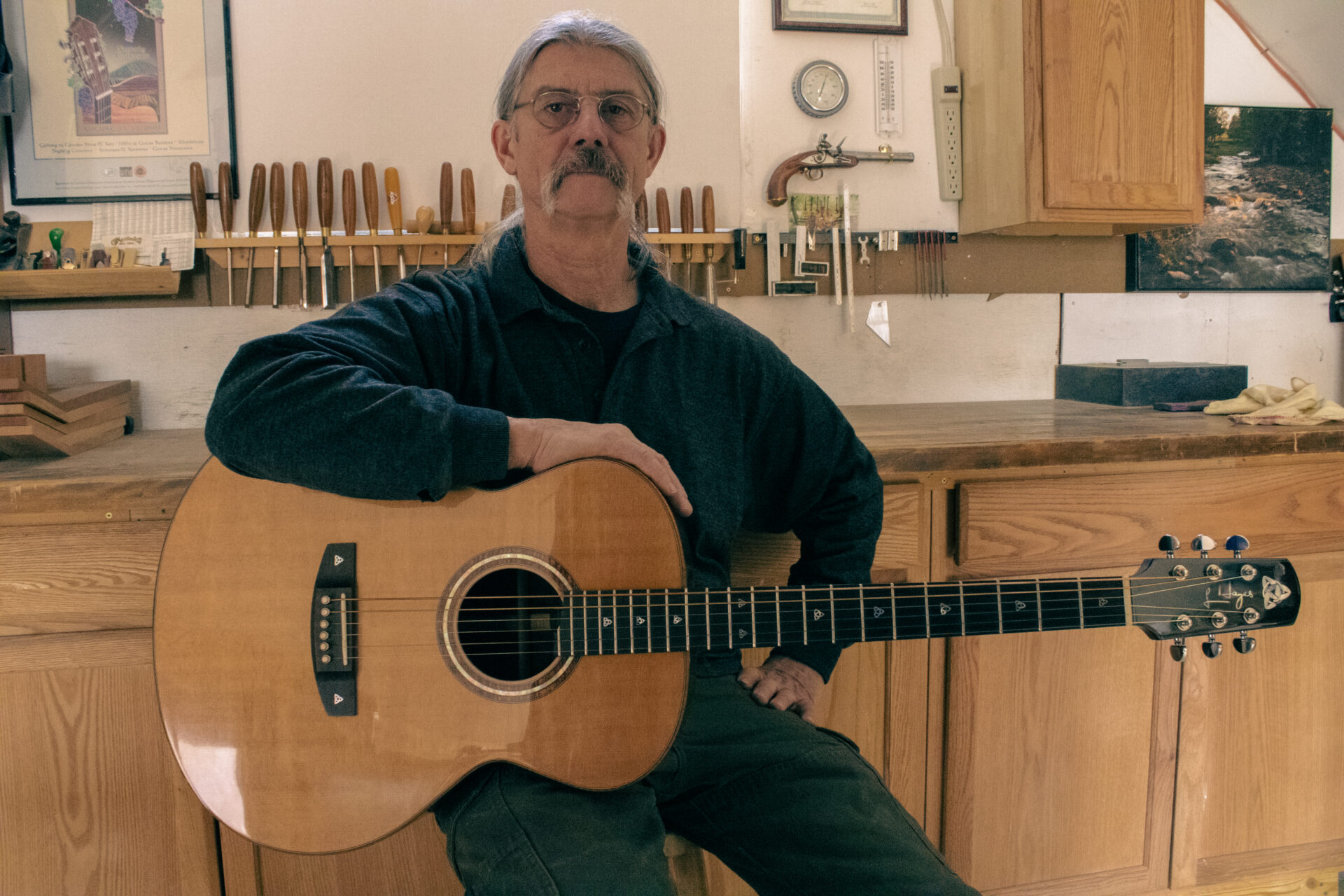 Louis Hayes "repaired" his first instrument at age 11… thus began a life long fascination with guitars and music.
Owning a very badly bellied, unplayable, department store acoustic, young Louis correctly assessed the problem, but not the solution.  The bridge was removed and re-glued back down on a flat part of the guitar. Oops! The concepts of scale length and intonation were yet to come!
Louis has been a craftsman/artist most of his life. He has engaged in wood carving, stone sculpting, painting, leather work, pottery, and rustic furniture building just to name a few adventures. Out of this creative impulse came his guitar building desire.
Beginning in 1993, self taught, Louis built 4 guitars before enrolling in The American School of Lutherie in 1995, where he studied building classical as well as steel string acoustic guitars under the tutelage of Charles Fox. Through the American School of Lutherie, Louis also had the pleasure to learn from a wide array of builders and repairmen; among them, Frank Ford, Jeffrey Elliot, Dana Bourgeois, Hideo Kamimoto, Jeff Traugot and Larry Robinson.
Louis Hayes currently operates a one-man guitar building and repair shop in Paonia, Colorado on the Western Slope of the West Elk Mountains.
Healdsburg Guitar Festival 1996-2001
American Stringed Instrument Association Guitar Festival 2000
Rocky Mountain Folks Festival 2000-2012
Rockygrass Bluegrass Festival 2000-2012
"Custom Guitars: A Complete Guide to Contemporary Handcrafted Guitars"
String Letter Publishing, copyright 2000
The Hayes Guitar was contracted as the Grand Prize for the Rocky Mountain Folks Festival Troubadour Contest 2000-2012
Michael Jude

Steve Postell

John Michele

Chris Collins

Jeanine Renee